Welcome to Our Practice
Cosmetic and Family Dentist Ormond Beach, FL - Yoon Dentistry
Here at Yoon Dentistry, in Ormond Beach, Dr. Brian Y oon D.D.S. M.A.G.D ., strives for perfection, quality and comfort in patient care. Our goal is to offer exceptional service to all our patients in and around the Ormond Beach, Florida community. We know what a significant difference in health and self-esteem a beautiful smile can make, which is why we are dedicated to giving each of our patients the healthy smile they deserve!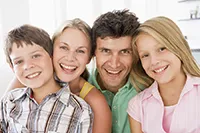 From Family Care To Beautiful Cosmetic Dentistry
From common problems to gum disease, we provide an array of dental services to meet your dental needs, including: esthetic ceramic crowns by E-max, dental implants, early dental care, root canals, wisdom tooth extractions and orthodontic braces with Invisalign. We strive to work with you individually to create a customized treatment plan tailored to meet your specific needs and desires. We offer cosmetic services as well as comprehensive dentisry.
We are certified and experienced invisalign providers. Feel free to come in for your complimentary invisalign consultation. We are more than happy to answer any questions and concerns you may have. Click here to learn more about your treatment.
State-of-the-art Equipment
We employ the most advanced technology available to assist us in delivering the highest standard of care possible. Our fully digital office allows us to maintain accurate records of your treatment at our finger tips, not only to assist us with treatment planning, but to keep you thoroughly informed as well.
Patient comfort is just as important to us as patient education, which is why we utilize the DentalVibe technology to deliver comfortable, painless injections.
These are just a few of the steps we've taken to ensure your experience with us is second-to-none. If you are in need of a caring dentist in Ormond Beach, Request an appointment with us today to see for yourself why we are the best choice for your family's dental needs.
All your treatment in one office, by one professional.
We understand the frustration of being referred to several different offices throughout the course of treatment. With over 5 major specialties existing in dentistry today it is not uncommon to see 2-3 different doctors for a single treatment plan. For this reason our proficiency allows us to take care of 99% of our cases in our office alone which saves you time and more scheduling headaches. Contact us today to see how you the Ormond Beach Dentistry team can change your life today.
We offer nearly every procedure and surgery in modern dentistry. These include, and are not limited to:
*Immediate emergency care available and walk-ins welcome. Call or Message Ormond Beach Dentist for more information.*
Ormond Beach, FL Dentist
Yoon Dentistry
1180 West Granada Boulevard
Ormond Beach
,
FL
32174
(386) 672-2828